What is Cleaning in Place or CIP Cycle? Light on Automation Prospect
Cleaning of process vessels, bioreactors, other specialized equipment, and integrated systems are performed without disassembling the equipment hence called Cleaning In Place or simply CIP.
A successful CIP cycle ensures that these systems are free from residues associated with the previously manufactured batch product. Additionally, it improves the efficiency of production cycle time. However, to achieve these, CIP requires solid control right from the amount of cleaning solution to the final rinse.
To establish and demonstrate an effective cleaning procedure requires thorough cleaning validation studies. We'll only stick to Cleaning In Place (CIP) systems instead.
Typical Cleaning In Place Cycle Steps
Cleaning in place generally carried out after completion of a batch in that equipment to remove the previous batch residues typically known as soiling. Every healthcare industry develops and employs its own cleaning procedures.
Utility for cleaning in place is selected based on the requirement such as Water For Injection (WFI), Purified Water (PW), Potable Water (PoW), etc.
We can't define a fixed set of operations in cleaning in place cycles due to product complexities. In fact, there are some common steps involved mentioned below. Again, they are optional unless otherwise justifiable to claim the status of equipment as "CLEANED".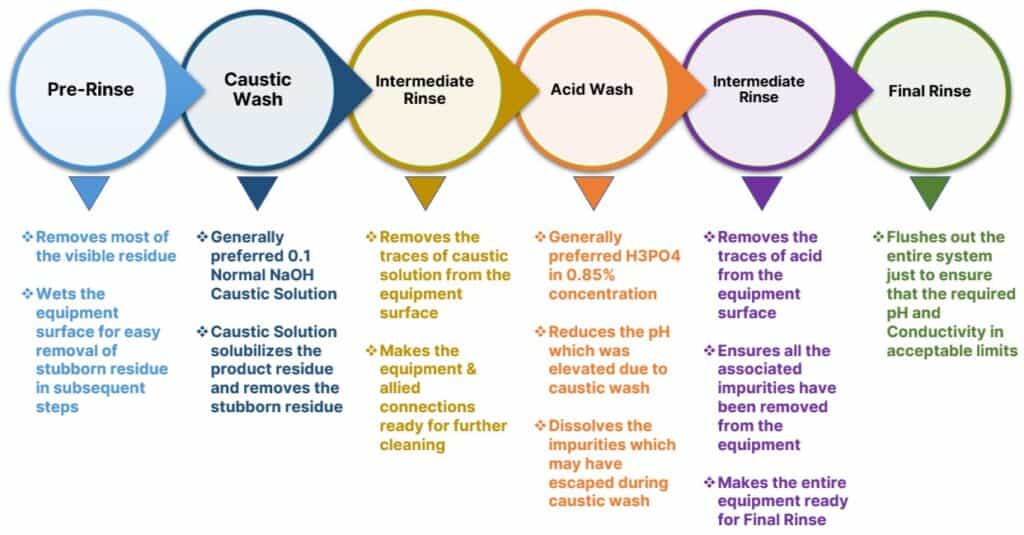 Traditional vs. Automated
Before the pharmaceutical manufacturers were adapting to automation, cleaning in place was carried out manually. From preparing cleaning solutions to the final rinsing with offline measurements.
Due to manual handling, assuring the same cleaning effect every time was a challenge.
Overcoming this, automated cycles would best be suited to make the business sustainable in long run.
The table below outlines the benefits of following the automation approach.
| Traditional Approach | Automation Approach |
| --- | --- |
| Product Contamination Probabilities | Reduced Product Contamination |
| Longer Cleaning Cycle Times | Short Cleaning Cycle Times |
| Increased Regulatory Concerns | Reduced Regulatory Concerns |
| Maintaining offline measurement systems | Replaced with online measurement |
| Longer Production Cycle Times | Shorter Production Cycle Times |
| Consistency and Repeatability is a Challenge | Similar cleaning effect every time |
| Chemical exposure to operating personnel | Exposure free operations |
| Troubles in resource optimization | Resources such as WFI can be optimized effectively |
Automated CIP Benefits over a Traditional one
An Automated Cycle
In healthcare applications, there are various ways to perform Cleaning In Place based on the system architect.
Mobile Systems (Movable on the floor)
Stationary Systems (Fixed directly on the floor)
Stationary systems may have dedicated arrangements for the CIP cycle through automation as they can't move from one location to the other.
Sometimes, equipment is docked to the specialized cleaning stations called CIP skids. Based on this, there are two ways to perform cleaning in place of the equipment.
Using CIP Skid (For mobile systems)
Using an in-built automated CIP cycle (For stationary systems)
Drug manufacturing involves complex process systems from process vessels to finished product processing units such as lyophilizers, filling machines, etc. Every piece of equipment may undergo either dedicated or an integrated cleaning in place treatment.
To understand easily, we'll see the in-built CIP of a dedicated process vessel. The cleaning steps remain constant while the philosophy for an integrated approach is different than single-vessel CIP. The picture below is just put to give you a rough idea.
Recipe Based Approach
The best way to drive and control your cleaning cycles is through recipe management. The recipe is a step-by-step sequence of operations with conditional logic that behaves as per user set points.
Suppose, we've got a 600L working volume process vessel to do the cleaning in place. Then, a typical recipe should look like this:
The values and steps entered above are just examples, you may want to edit your recipe according to your cleaning requirements.
Equipment with the in-built CIP would require manual caustic and acid solution preparations or any other automation alternative.
When using CIP stations, caustic and acid solution preparation taken care of by that station with a dosing system arrangement. So the steps shown above may be modified.
Prior to starting execution, it is important to check the readiness of the system including:
Input/Output testing
Proper concentration of cleaning agents
Pressurized condition of clean utility such as WFI
Drain lines are connected properly
Equipment is empty and no product present
Once the recipe loads successfully, the time is to execute it.
Execution
Based on the selected utility, the cleaning process initiates. Purified Water if selected, would require heating during the caustic wash to effectively disengage high soiling at high pH.
Whereas, WFI itself is in hot condition approx. 80°C and hence not included in a recipe. The mixer is kept on till the completion of the cycle at a suitable RPM.
Pre-Rinse
PW or WFI introduced in the system through the main header and then sub-header. Flushing of the vessel along with process lines ensures the large-sized soiling or residue is easily removed.
The soiled water then leaves the system through the drain point and therefore this step is once through. The effectiveness of this step can be confirmed by installing a suitable turbidity meter in drain locations.
Upon complete draining, process-grade air is flushed through the system to ensure no moisture remains inside the surface of the piping and equipment.
The system then depressurizes and gets ready for the next step.
Caustic Wash
PW or WFI is filled to the set point.
Caustic is added to prepare a 0.5N NaOH solution. How to prepare 0.5N is explained further.
If PW used, then the system is heated to the temperature range of 60-80°C with the help of an appropriate heating medium through the jacket. In the case of WFI, this step is not required.
Once the solution is heated, it then recirculated through various process lines for the set time to ensure all the residue is dissolved and disengaged from product contact surfaces.
After recirculation, the system is drained completely.
Upon complete draining, process grade air is flushed through the system to ensure no moisture remains inside the surface of the piping and equipment.
The system then depressurizes and gets ready for the next step.
Intermediate Rinse
PW or WFI is filled to the set point.
Recirculation is done from the same path that was employed during the caustic wash to ensure remaining residue traces removed along with the caustic solution.
After recirculation, the system is drained completely.
Upon complete draining, process grade air is flushed through the system to ensure no moisture remains inside the surface of the piping and equipment.
The system then depressurizes and gets ready for the next step.
Acid Wash
PW or WFI is filled to the set point.
Acid is added to prepare 0.05N Ortho-Phosphoric Acid solution. How to prepare 0.05N is explained further.
It is then recirculated through process lines for the set time. Protein residue that may have escaped from caustic wash gets removed here.
After recirculation, the system is drained completely.
Upon complete draining, process grade air is flushed through the system to ensure no moisture remains inside the surface of the piping and equipment.
The system then depressurizes and gets ready for the next step.
Intermediate Rinse
Similar to the previous intermediate rinse.
Final Rinse (Once-Through)
System and process lines are flushed with PW or WFI and drained simultaneously for a set time to remove all the residue of cleaning agents accumulated during cleaning.
pH and conductivity are monitored during flushing. Sometimes, conductivity can dictate that equipment and associated process lines are free from any residue.
Conductivity less than or equal to 1.3 µS/cm will terminate the cycle upon successful monitoring for the set time.
Once the conductivity is achieved, the system is drained completely.
Upon complete draining, process grade air is flushed through the system to ensure no moisture remains inside the surface of the piping and equipment.
The system then depressurizes and gets ready for the next batch.
Once the final rinse is over, Cleaning in Place is considered as complete. Intermediate rinses add one layer of cleaning assurance and can be considered optional. Also, caustic wash sometimes called Alkali wash.
Critical process parameters for pharmaceutical cleaning operations, if are not meeting the acceptable limits, the cleaning cycle will have to be re-executed. Following are the critical process parameters commonly considered for cleaning in place.
Flowrate
The pressure at the Utility Supply
Temperature and sometimes pH
Acid and Caustic concentrations
Acid and Caustic contact times
Final rinse Conductivity demonstrating all cleaning agents removed completely
Velocity is the Key
Velocity not more than 2 m/s and not less than 1.5 m/s would achieve better results in cleaning. Recirculation pumps and flowrate at supply should have a flowmeter with velocity measurement capabilities to ensure the required fluid velocity achieved during practical use.
The velocity less than 1.5 m/s considered as laminar flow and would not promote proper cleaning. While velocity more than 2 m/s would not obtain additional effectiveness.
Importance of Cleaning Agents
The selection of a cleaning agent plays an important role in the effective cleaning of your healthcare equipment.
Finished product processing plants generally consider using 0.5N NaOH as caustic and 0.05N OPA as the acid solution. They are adequate in dissolving proteins and other commonly associated residues.
Please note, they can't remove scaling formed on the surface of the equipment or process lines. For that purpose, we generally carry out passivation with the help of Per-acetic acid or Nitric acid.
The caustic solution generally contains 0.5N NaOH solution. The total required quantity of NaOH is calculated by considering the dissolution of 20g of NaOH in 1L PW. Simply multiply the cleaning volume with a factor of 20 which will give you the total gms of NaOH required. The acid solution may contain commonly practiced ortho-phosphoric acid (OPA) of 85% concentration of 0.05N.
Solid compounds can be calculated straightforward but liquids such as acids require additional calculations. In the case of H3PO4 i.e. OrthoPhosphoric Acid, after a few pre-calculations, a simple way to calculate the required amount of acid is to multiply by a factor of 1.137. Then the formula would be:
Volume of H3PO4 required (ml) = 1.137 * (Volume of Total Solution Including Acid (L))
The concentration or composition of cleaning agents used, should reflect and demonstrate the effectiveness of your cleaning in place cycle.
Finding Optimization Opportunities
Once set does not mean settle. Finding opportunities that optimize your existing cleaning cycles is very important both time and cost-wise.
Companies should always monitor their cycle behaviors over a period of time and may keep a trend with them. Trends are the best one-page source of finding potential risks as well as opportunities to improve.
Recipe parameters are another way to look for optimization. Excessive cleaning is nothing but a waste of time and resources. A systematic study of existing cleaning in place cycles would definitely bring something to the table that might not be seen closely earlier.
Riboflavin or Spray Ball Coverage Test
Purpose
This test is used to evaluate the cleaning effectiveness of the spray ball for particular equipment. Moreover, to ensure the cleaning in blind spots of the equipment created by shadows due to agitator, baffle, nozzles, mechanical fittings etc.
Scope
This cleaning pattern applies to the Cleaning In Place (CIP) of process vessels mainly demanding the documented evidence of cleaning effectiveness.
Pre-requisites
As part of the procedure, equipment must already be cleaned to avoid false reporting of fluorescence under ultra-violet light.
Riboflavin solution of required quantity filled into the spray device. Prepare Riboflavin solution by dissolving 1 gm of Riboflavin in 10 Lit. water for 100ppm solution.
Cleaning In Place Pump at supply side to deliver at least 2.5 to 3 bar(g).
Electropolishing is completed and approved.
Availability of pressure gauge, flow meter, and control valve.
Identify and define the critical or worst-case areas of the equipment.
Background
Riboflavin is most widely used in this test. It is a yellow vitamin that gives fluorescence under UV light. It is mixed with water and sprayed on the inside surface of the equipment being tested for cleanability. Rinsing is then delivered through the spray ball in a burst-rinse method.
We need to be sure while performing the riboflavin test that operations are in the designed flow and pressure parameters. The cleaning in place cycles must run under the bracketing of system-design to confirm the results as repeatable.
Procedure
Steps to perform riboflavin testing:
Spray the solution on the inside surface of the equipment including all critical areas.
Perform cleaning through spray ball at the specified flow rate, time, pressure, and frequency.
Inspect visually with the help of UV light for any fluorescence post-cleaning.
Note down the observations and conclude as pass/fail.
If riboflavin is still present post-cleaning, then it would appear like this under UV light and the cycle would be considered as a failure. Else, the testing is considered as Pass.
Conclusion
Designing and implementing an automated cleaning in place cycle is a complex process backed by appropriate conductivity measurement.
Though the development platform and measurement systems have upgraded over time, the fundamentals remain the same. The steps explained in this article are just the tip of an iceberg and actual digging starts while developing them right from the valve activations till conductivity measurement.
How do you conduct your cleaning in place cycles? What challenges are you facing in assuring your cleaning in place cycles? Comment below.