India China Pharma Concerns For 2021
As per the recent developments, the larger scale of India has boycotted products imported from China because of escalated tension between the two countries. This also has affected the pharmaceutical products like APIs (Active Pharmaceutical Ingredient).
When it comes to India China pharma comparisons, the Indian pharma sector is dependent on products like APIs majorly.
To cut a long story short, the key component of any finished drug product (bulk drugs) is called API.
India evolved as one of the global market leaders in generic drug formulations. In spite of that, its dependency on Chinese APIs imposes major concern for the Indian pharma business in the long run.
According to data released by Pharmaceutical Exports Promotion Council of India (Pharmexcil), a body under the Union Ministry of Commerce and Industry, exports in FY-2019 of bulk drugs or APIs and Intermediates touched as close as $4 billion, nearly 11% more than the previous year.
India imports various APIs or intermediates from China with almost every requirement served by Chinese manufacturers. Range somewhere falls between 70 to 90% of the total requirement.
Meaning, the API manufacturing plants in India can fulfill only 10 to 30% of the total requirement approximately. This shows we have already given up our API manufacturing market to China.
Statistics on India China Pharma Sector
Import-Export is the primary indicator to understand how a particular sector grows economically. So, let us see the historical data for pharmaceutical import-export in U.S. million $ from the last ten (10) years of India China Pharma.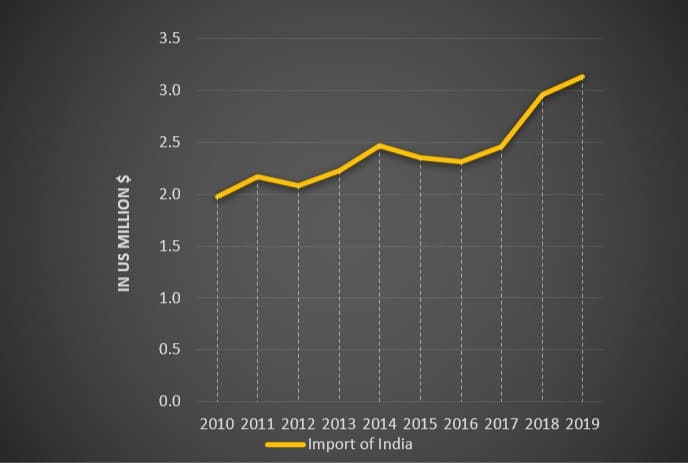 This enlightens us that India year by year has increased its pharmaceutical imports. This shows financially a bad sign for a progressing country like India.
Similarly, India seems way down the line as compared to China for its pharmaceutical exports.
Let's understand further, the various reasons for India's dependency on China for Pharmaceuticals.
India China Pharma: Reasons for India's Dependency
To understand the reasons for dependency, we may categorize the contributing factors, particularly for APIs.
Commercial Aspects
Chinese imports are more profitable for Indian pharma manufacturers. This is because the production cost of APIs in China is around 25 -30% less than that of India.
This import option makes Indian API manufacturers opt for import, formulate, and export drugs in a cost-effective manner.
Two key factors are responsible for over-dependence on China
Infrastructure Facilities
Tax benefits
These two parameters directly bridge the government's vision and their potential schemes.
As the manufacturer always thrives for profitability, this scenario would've been a non-profitable business for them. Rather, imports from China helped into a profitable business. This is also an important factor affecting India China Pharma trade from India's perspective.
Still, India has a pro compared to China, the labor cost. China having more GDP than India makes its labor cost more expensive.
The Chinese government has more than a few subsidies and tax savings schemes than India, including lands and utilities like electricity, water, etc. at low-cost making their capital and running costs cheaper. This helps them maintain higher scalability and therefore enable them for huge export of APIs. This shows that VOLUME is the key in China where India seems to lag.
Environmental Factors
India stands firm on environmental safety, and pollution compared to China.
According to the Central Pollution Control Board of India, the API sector falls under one of the most polluting industries in the country and requires to follow strict environmental regulations.
Contrary, the Chinese industries received enough environmental relaxations from their government.
This crunch has resulted in a slow manufacturing rate from India compared to China and moved India's focus towards environmental factors more.
Therefore, private firms in India considered easy to buy Chinese APIs than manufacturing at local levels.
Regulatory Compliance
India lags smooth execution of strategic policies "on the ground" which has a requirement to revive and support the business needs.
Considering the Regulatory clearance aspect, India has a complex system for clearance on filing and approvals as compared to China.
This aspect directly affects the time required in actual manufacturing, as approaching various authorities involves their unique challenges.
Certainly, there are Indian policies planned to minimize the dependency on China, execution of them is not that smooth.
During the Covid-19 pandemic, India emerged as one of the few countries to control the spread and launch the vaccine on a fast-track for such a large population.
Additionally, India manufactured some APIs and vaccines on mission-mode including huge exports.
Recently, several Indian pharma manufacturers were getting serious observations from regulatory agencies regarding the Quality and Efficacy of the APIs.
This resulted in rework, corrective actions, and thereby time-delays due to the reduced rate of production than targeted.
Technology Improvements
This is the most contributing factor for India's dependency on China as India surely has technology but at a cost.
While China also has technology but at a low-cost. Hence this factor directly affects India China Pharma trade.
For instance,
Fermentation processes in India use raw materials like glucose and soya which we all know comes at a high cost.
China uses cheap raw materials such as cauliflower. (Please note this also improves the quality of India's drugs & yet at a cost).
On the technology front, Indian manufacturers have an easy option, i.e. "cheaper import".
Tech revolution previously observed in the 1980s with the strategic goal of India becoming a generic drug manufacturer.
Indian Public Sector Enterprise mainly includes Hindustan Antibiotics Limited (HAL), Indian Drugs and Pharmaceuticals Ltd. (IDPL). Also, CSIR laboratories mainly include the Central Drug Research Institute (CDRI).
These institutions have contributed significantly to the acquisition, distribution, and expansion of required technologies for pharma during their era.
The Indian Govt. certainly lacked a futuristic approach in upgrading these industries from time to time. Definitely, in terms of technology and policies.
Though private firms have achieved a lot, definitely there is an opportunity to transform the public sector enterprises too.
Conclusion
The Indian government is now considering revival and growth for pharmaceutical industries to sustain future health crises.
This will require more strategic infrastructure and tax-saving schemes, which will promote current API manufacturers to increase their capacity and business.
These schemes should also ease the initial setup of the business, which will attract more investment.
There is a prime need for scientific investigations and a progressive approach for increasing the volume of APIs and intermediates. It will enable our nation firm and stern for protecting the interest of the pharma sector.
Properly structuring the existing complex approval procedures is a must. Equally, the system should be able to measure the execution of existing framed policies that'll reduce India's dependency on China.
Indian government should support and promote investment in Technology Research, Development, and Transformation of the public sector enterprises.
This will help in developing greener technologies to sustain and improve the Indian pharma sector in the competitive market.